Perhaps we might also mark this occasion by bringing to surface the most notable of the school's successes. That a century after its opening, the Bauhaus has become so ubiquitous in our modern world, it is almost completely invisible.

Today, if we look for it, we see remnants and the influence of the Bauhaus almost everywhere. Ludwig Mies van der Rohe & Lilly Reich's Barcelona Chair can be found in every corporate lobby. Josef Albers' inspired nesting tables, now a household item, can be delivered to your door, flat-packed.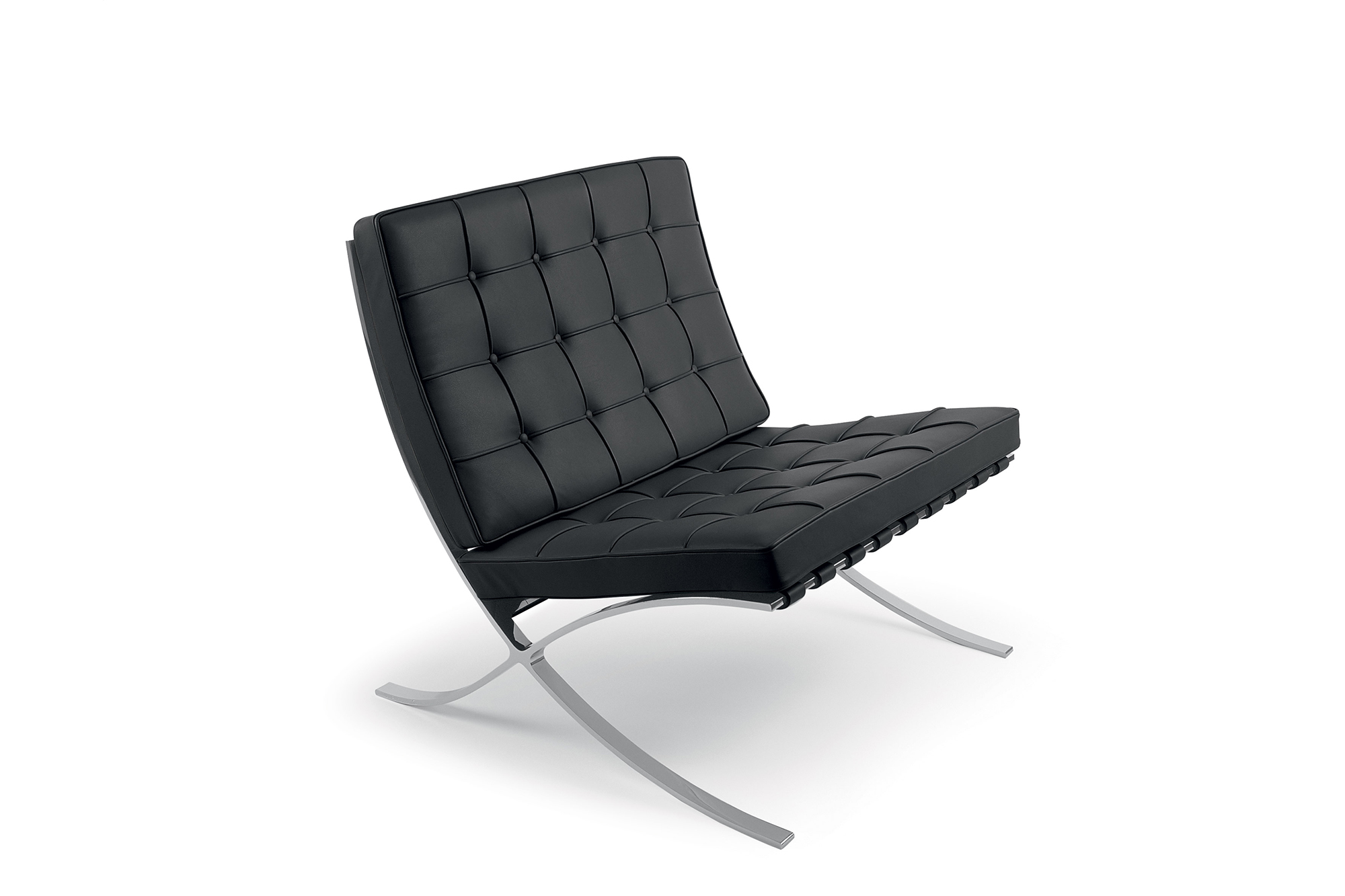 Some examples we see might be genuine, designed and produced by the alumni of the Bauhaus and still in production today. While others can be purchased from countless retailers worldwide who now deal exclusively in products that take inspiration from the original Bauhaus designs.

If you're in the market, a quick Google search will send you spiralling down a rabbit hole of different price ranges and varying degrees of counterfeit. One such company, selling a 'mid-century modern sofa', has a 4.25 star rating from 4591 reviews. Yet these reviews offer little in the way of reassuring a good product:
"It's not the most comfortable, but I can definitely sit on it for a while." "Yes, it is a bit hard but it's good." "As for the comfort of the futon...sure it's not that comfortable, but I have slept on worse." "One of the zippers concealing one of the folding legs in the back arrived broken, but it is against a wall and will not be noticed..." — all excerpts taken from 5-star reviews.
The influence of the Bauhaus is so strong in today's world, that it trickles down into even the most mainstream of retailers. Don't be surprised to find the Bauhaus lurking in your IKEA rug or sitting atop the cute side table you picked up from Kmart. Strangely familiar, the influence of the Bauhaus is admired by the masses, whether we realise it or not.
One might be tempted to argue that these mass-produced copies that look the part in your living room for a six-month stint before deteriorating, are indeed a far cry from where they started.
However, the flipside of this argument is — was this somewhat the intent of the Bauhaus all along?
In the words of Gropius, the Bauhaus set out to design products that "perfectly serve their function", while being "inexpensive, durable and beautiful". And in turn, the intention was to create well-designed solutions that could be mass-produced and distributed to everyone, not just those who could afford it.
We might start to form an answer to this quandary by tracing our 'mid-century modern sofa' back to the very conception of the idea of the Bauhaus, which first came about in Germany during 1913. This was a tumultuous time, with the country suffering in the wake of the crushing defeat of World War I. As traumatised soldiers returned home, they found their country troubled with economic and social disorder. The founder of the school, Gropius, was himself one of these soldiers. His response to society's need for a completely new start, was the Bauhaus.
The Bauhaus—where the reigning principles were the unity of form and function—embodied the idea that design is always in the service of people. The premise of the school was to teach artistic conceptual thinking (form) married with industry (function).

The school quickly gained a reputation for its evolving, revolutionary practices. There was an excitement as a shared appreciation for new techniques, new materials, and new ways of construction sparked new creations. It was a new attitude. And it was these ideologies which drove the work, as students pushed boundaries using the logical analysis of form and embracing new machine technologies in order to create designs that could be realised by the number.
At the Bauhaus, processes were streamlined, and every decision made was justified with the utmost attention to detail. This desire to provide uniformity and follow a regimented approach was surely a reaction to the loss of control that the war had brought in the years preceding. Work produced from the Bauhaus is a good example of how design is not purely aesthetic, but is instead a product of a moment in time, shaped not only by the designer but also by the social, cultural and political climate in which it exists. And that is why each object that genuinely came from the Bauhaus can tell us a story.
Work produced from the Bauhaus is a good example of how design is not purely aesthetic, but is instead a product of a moment in time, shaped not only by the designer but also by the social, cultural and political climate in which it exists.
Take Moholy-Nagy's book jacket Malerei Fotografie Film (Painting Photography Film), completed in 1927 at the Bauhaus. Here, the integration of photography into design is an expression of his belief in using new radical technology to convey the spirit of the modern day. Using the bold forms of sans serif typography, he was embracing the machine's hand and its reductive, geometric forms. His work was advocating a utopian type of high modernism.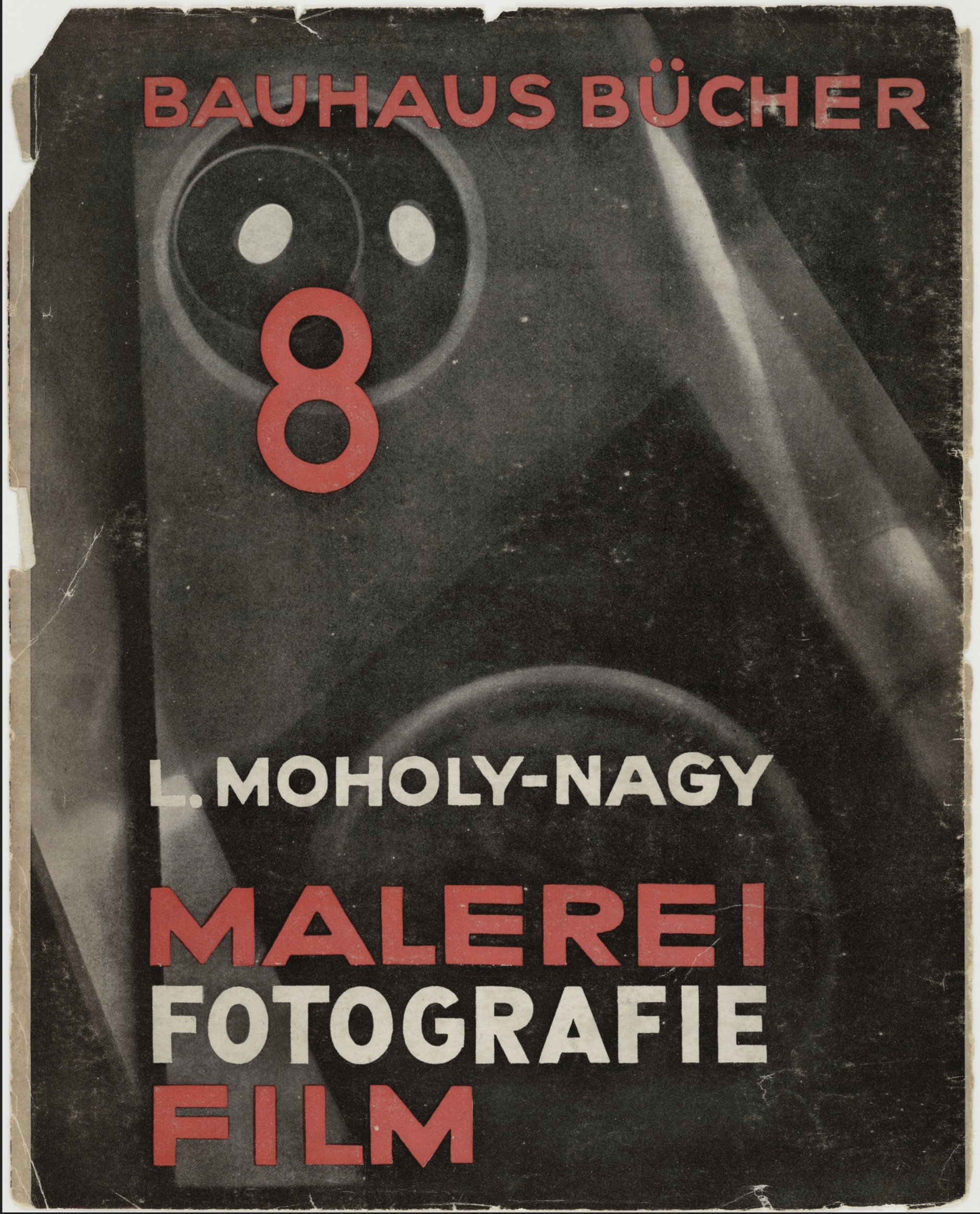 Or take the Bauhaus building itself, which alone tells us a story of the school's deep rooted values. The German term Bauhaus—meaning 'building house'—was a School of Building. In 1925, it moved from its original site in Weimar to a new building in Dessau, designed by Gropius himself. Gropius' new design personified everything that the Bauhaus stood for. It was one of the first buildings of the International Style, and has since been imitated so much that it is almost impossible to fully appreciate how radical it truly was. Using modern unconventional materials such as steel, glass and concrete, it rejected traditional architectural norms, following a geometric aesthetic without ornamentation of any kind. Its design favours space over mass, creating space within the building as opposed to the building taking up space. Composed of flat rooftops, smooth facades and cubic shapes favouring hard right angles, this was architecture for the machine age, built with parts that could be fully mass-produced. Essentially, it was the Bauhaus philosophy reflected in three dimensional form.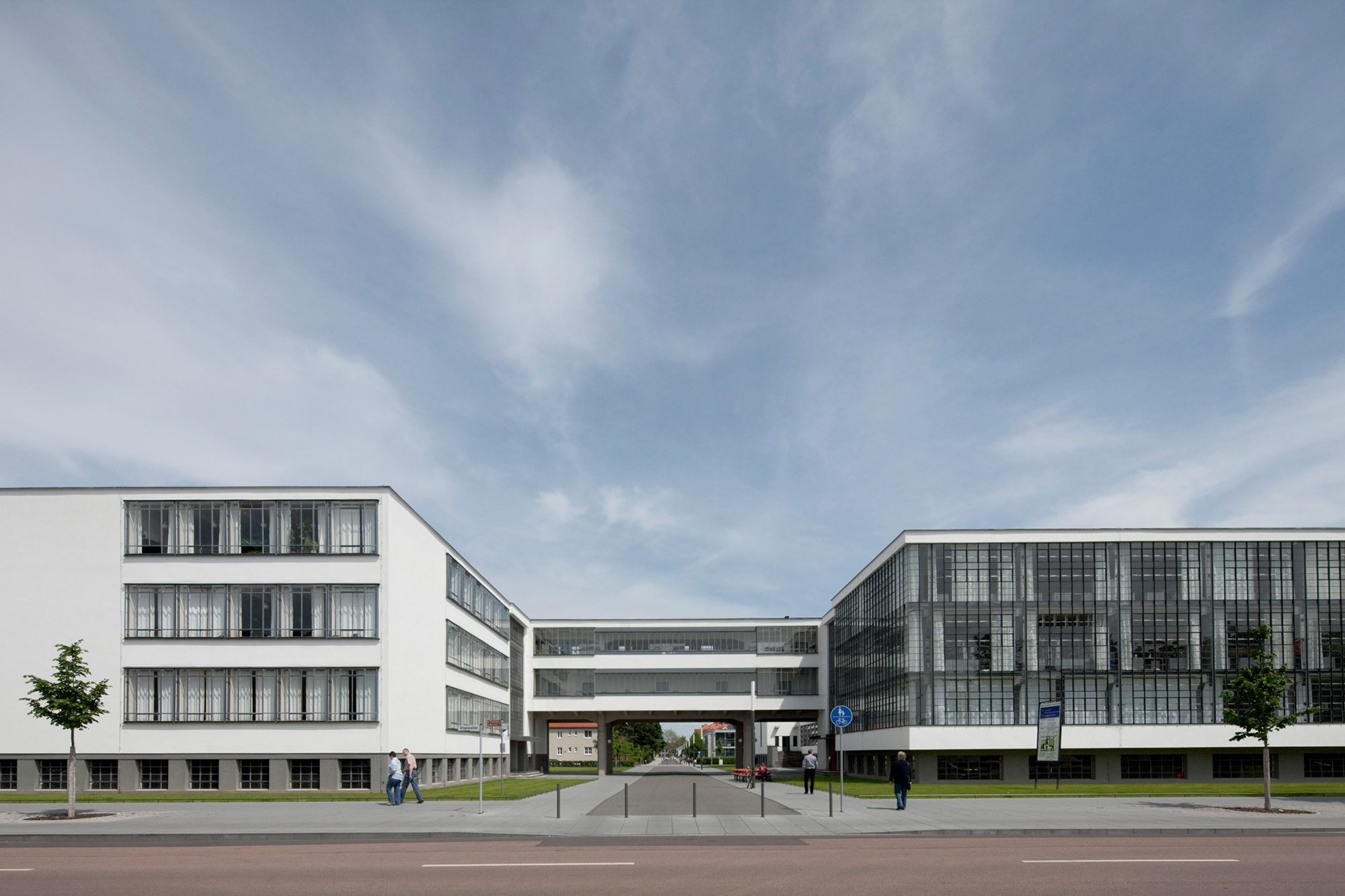 True to form, and perhaps the most mythic work to come out of the Bauhaus, was Herbert Bayer's 1925 universal typeface, which strove to be as idealistic as the school itself. Its story was rooted in the rejection of conventional German typography, finding its basis in roman letters instead of using traditional German blackletter characters. With universal, the inclusion of an uppercase set of letters was deemed unnecessary by Bayer — being a waste of time in both the production and use of typewriters. By advocating a strictly lowercase alphabet, Bayer found a way to conflict with the minds of right-wing politicians. Serifs too were abandoned in pursuit of something as crisp as architecture's International Style. As a sans serif lacked any nationalist associations (unlike the German blackletter tradition) it could serve as a unifying force in the post-war era. Bayer intended universal to stand alone as an international typeface, though conservatives argued that its basis in roman letters represented a snub against the German tradition. universal was an example of how design can be inherently political, and how the progressive ideologies of a movement can be embodied in even a typeface.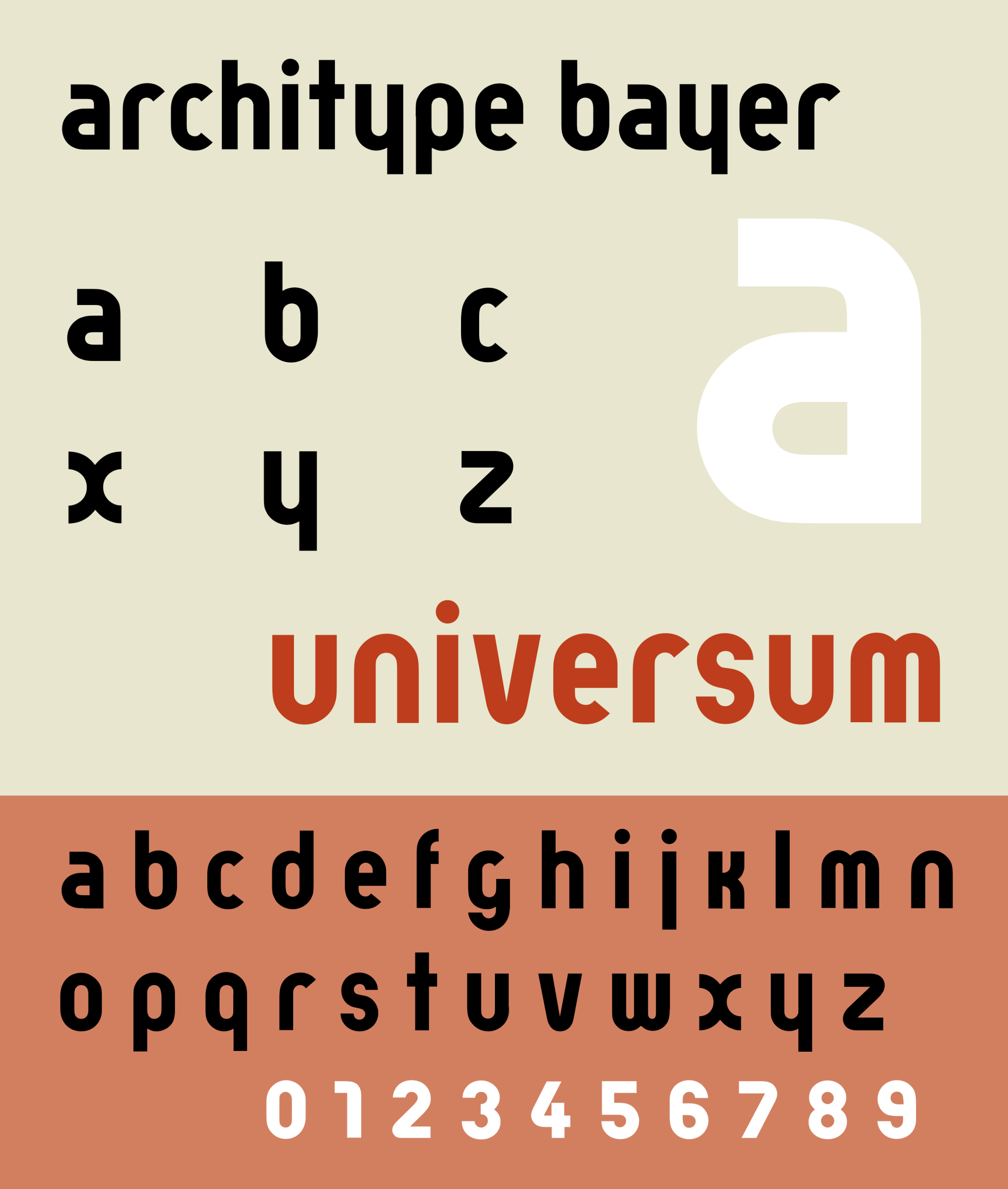 Of course, within our contemporary context, it's not just the IKEAs of the world that take the centre stage. True Bauhaus ideals live on in the innovative practices of many of today's designers. Berlin-based architect Van Bo Le-Mentzel is one such designer, who's work follows an ideology derivative of the Bauhaus: 'Build More, Buy Less', a reaction to overwhelming consumerism.
Le-Mentzel's dream is to create new models of social neighbourhoods, building what is popularly known around the world as the tiny house movement. His designs are compact, necessity-only homes that you can attach to a trailer and drive across the country.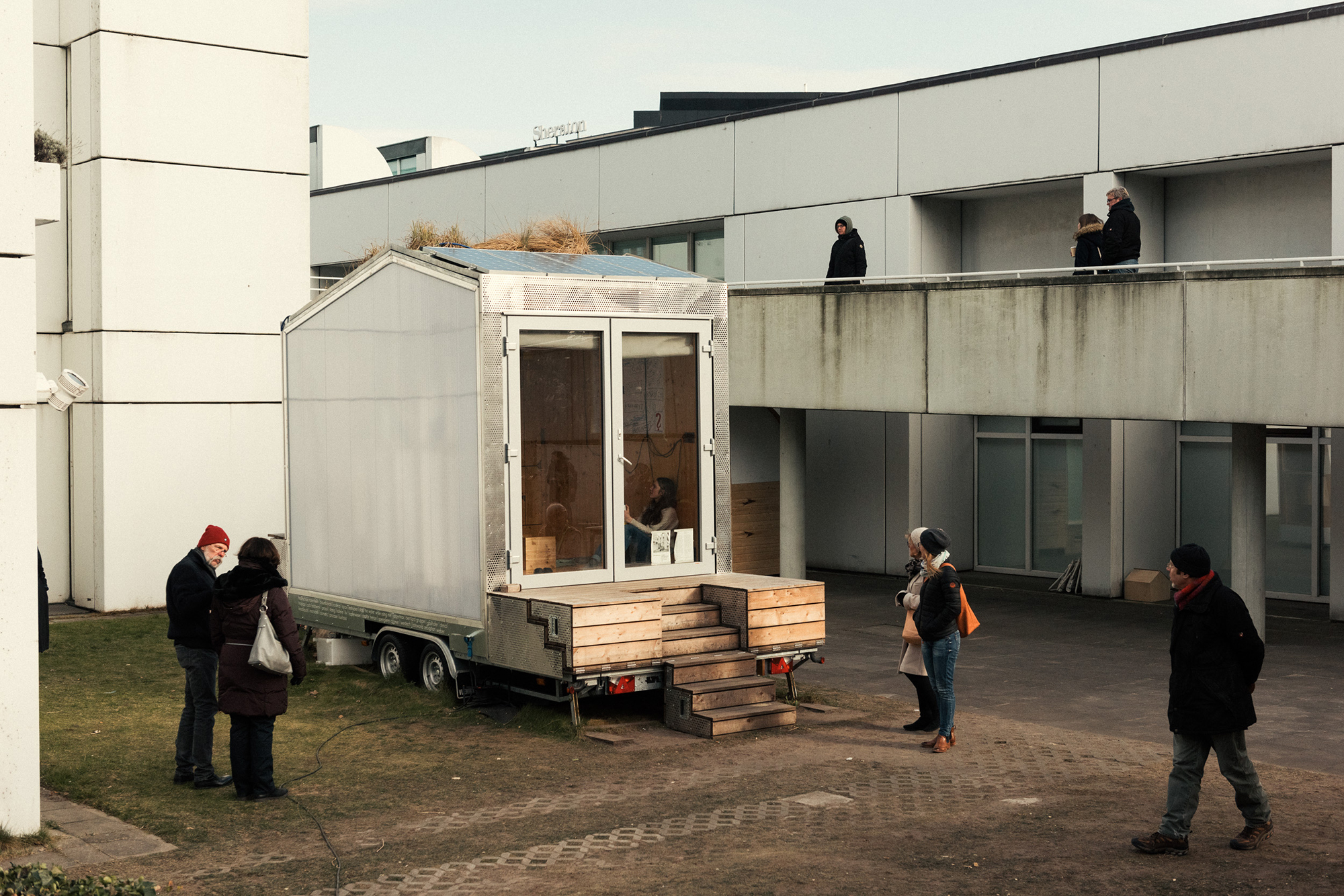 These tiny homes measure no more than 46 square metres of space, yet each one has a rich story behind it. Usually these stories are of people who are frustrated with their jobs, and are looking to break away from social norms. Like the Bauhaus, Le Mentzel's design provides their necessary escape.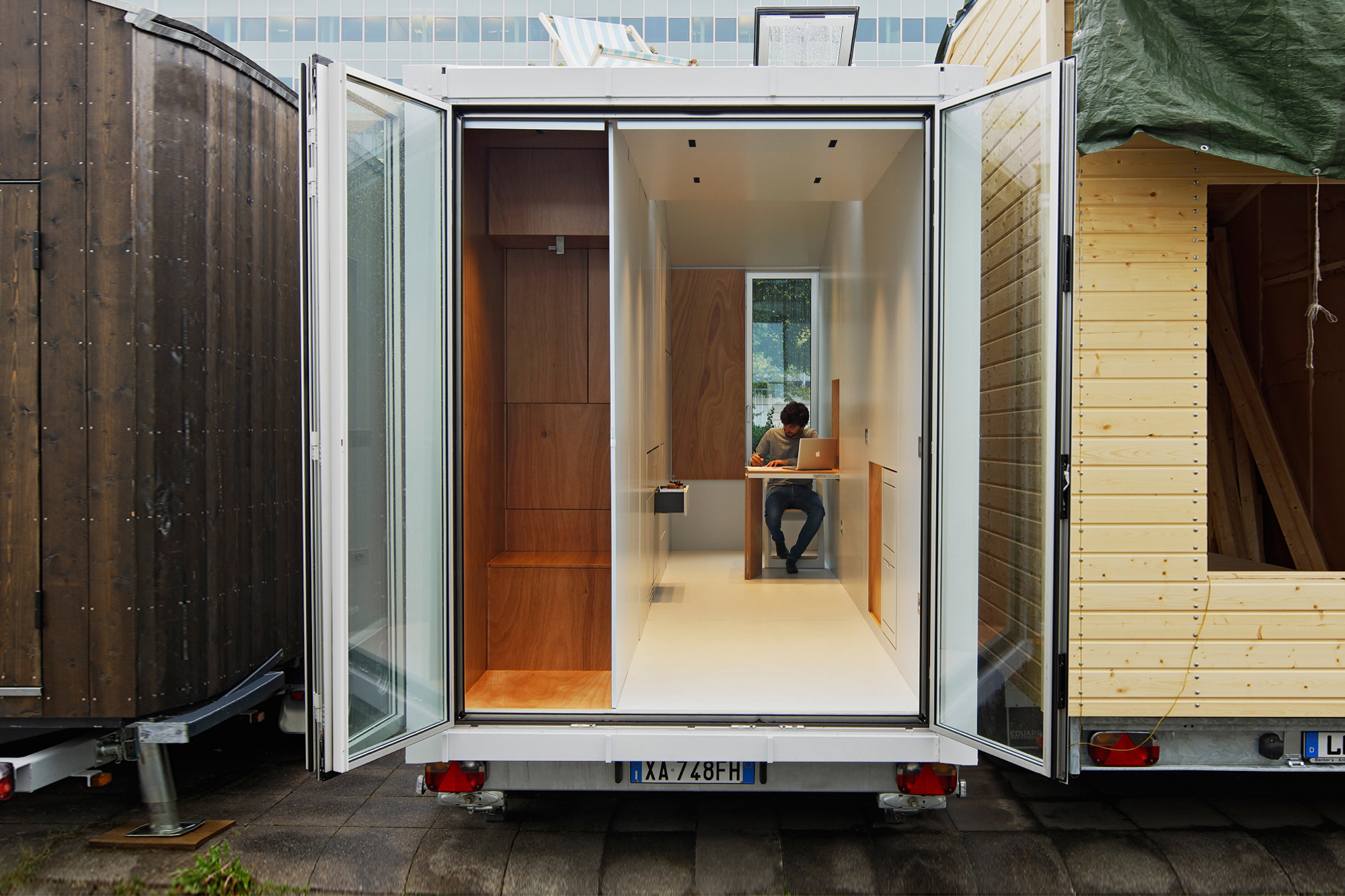 As exemplified, true objects of design tell us a story of their function, history and timeline. They speak of the world in which they came from.
So if an object can tell us something of society, what are our objects saying about our cultural pedagogies today? Can we now assess if the Bauhaus ideals have truly been realised?

We certainly have reached a height in mass-production. We can easily acquire the Bauhaus aesthetic for ourselves. These were two foundational ideals of the Bauhaus.
Though without the true functionality of these designs, what we are acquiring is purely a visual reference, lacking in substance, and somewhat bastardising the very ethos which made the Bauhaus what it is.
So as we shift uncomfortably in our knock-off chairs, how can we look to re-capture the ideology of the Bauhaus school? Is it possible to stop leaning so heavily on the past, and use these ideas to drive a future aesthetic?
100 years after the Bauhaus first opened its doors to the world, let's ensure that the narrative of our creations is saying something true. And something of this moment in time.