Companies don't come with a soul; you have to create one.
All products and services are meaningless at their inception. It is the slow transition to becoming meaningful that distinguishes powerful brands from their competitors. Primal Branding, a term coined by Patrick Hanlon, deconstructs people, place and things into seven pieces of 'Primal Code': creation story, creed, icons, rituals, lexicon, nonbelievers and leader. These pieces become your brand's constitution and are what attracts people to your effort. This is what creates 'brand communities'.

This begins with crafting an origin story that describes who you are and why you exist. Define your product or service's reason for being and role in a people's life. Give it a name and language that describes it. Firmly state what it's not and never wants to become. Finally, tell people about who's leading it all.
With skill and consideration, you'll develop a strategy that provides you seven unique points of differentiation, and a storyline that appeals to the rational and emotional parts of your consumer.
Suddenly, the intangibles of your brand will become vivid, identifiable, palpable and manageable. What results is a brand subtle in delivery but strong in message.
If your offering makes more sense than the thing standing next to it, you have created preference. When we prefer one thing over another, we join it, use it, love it, fight for it. Importantly, we don't just buy it, we belong to the community that surrounds it. We connect with it at a soul level.
We're having a change of heart
Today we're seeing that certain issues which could be considered secondary to a brand are suddenly primary. People are not just choosing the best, the fanciest, or the cheapest. They're choosing brands that have the right meaning.
Consider Columbia Sportswear vs. Patagonia. The quality of the two products are not markedly different and Patagonia is often more expensive.
Yet Patagonia has a customer base that, while smaller than Columbia's, is absolutely committed to Patagonia. Why? For the past 45 years, Patagonia has been a business at the cutting edge of environmental activism, sustainable supply chains, and advocacy for public lands and the outdoors.
In just the last few years alone, the company has expanded its used clothing program, amped up its investment in sustainable start-ups, launched an activist hub to connect its customer base directly with grassroots environmental organisations, and taken the Trump administration to court over its public lands policy.
Just last month, CEO Rose Marcario announced it was giving back the $10 million Patagonia received in tax cuts to grassroots environmental organisations. Their new mission statement; "Patagonia is in business to save our home planet." A seemingly unshakable desire to do good for the planet is a genuine component of the company's DNA.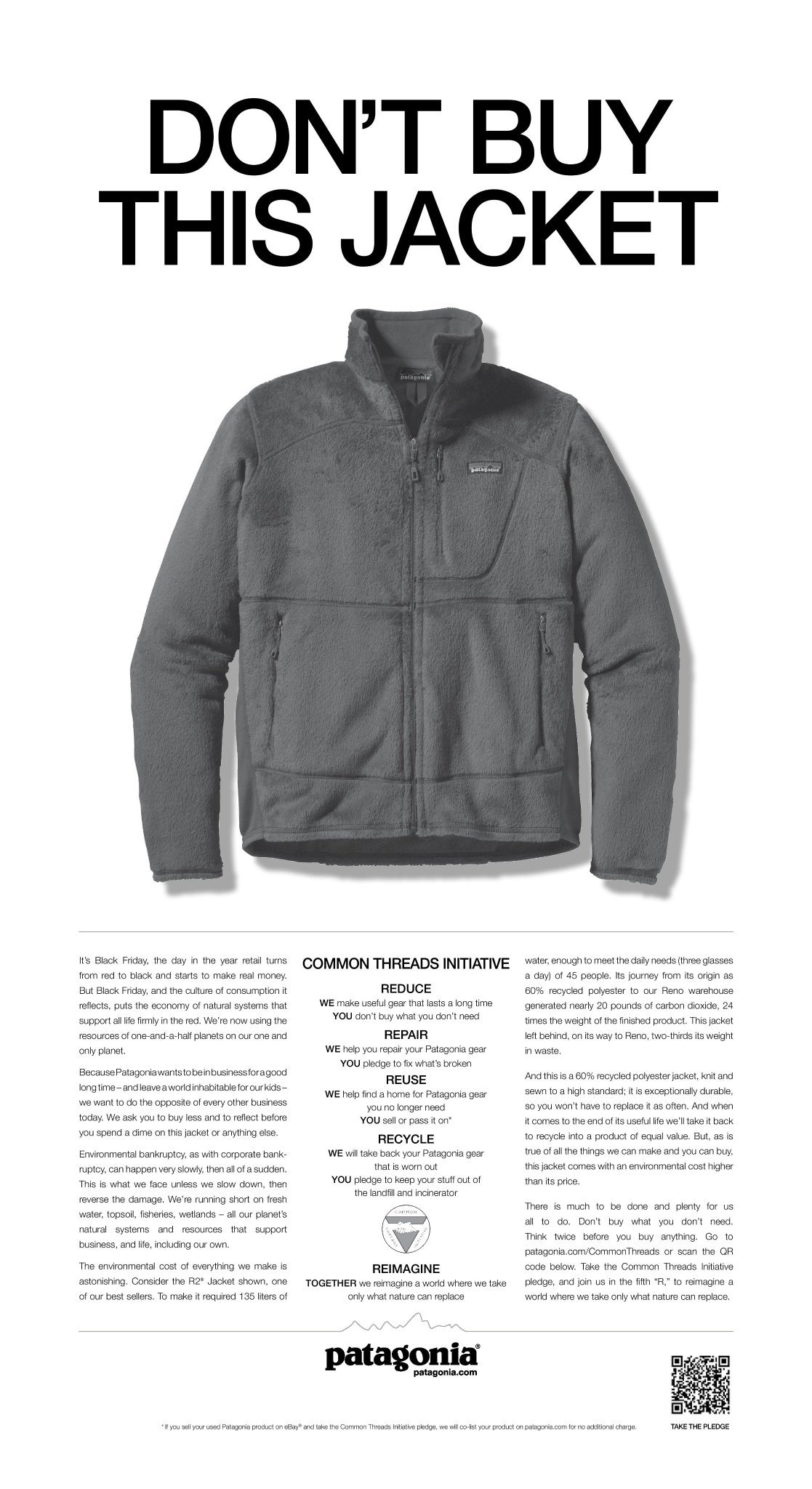 It's not that Columbia Sportswear has the wrong meaning, it's that Patagonia has more of the right meaning for its audience. The Patagonia consumer, like those of so many other brands, is making a choice based on meaning, not just quality, features, or price.
Patagonia places very little emphasis on creating external brand images. Instead, they've drawn upon their core beliefs and values to create views of the world and ways of acting in the world that have become their central truths. Their brands are created by living these beliefs inside the company and letting these beliefs drive external communications and consumer experiences. And consumers are attracted to the meaning embedded in those beliefs.
Customers are soul searching every day, everywhere
We are not a species concerned with mere transactions. We are creatures of meaning. From the time when Neanderthals began burying their dead, we have been concerned with the larger meaning of life—who we are and why we're here. Throughout history and, presumably, pre-history, these questions of meaning and identity have been primarily answered by the culture in which we grew up. Our cultures have given us the symbolic tools we needed to create our own sense of identity.
With brands permeating the heart of cultures, now more than ever, the brands a person associates with speaks to the individuals morals and character. Our identity is closely associated with the choices we make as consumers.
Primal branding goes beyond the realms of social cause related marketing and influencers. Primal brands secure themselves longevity by genuinely enriching the lives of their customers. They're not tokenistic or disingenuous. They're real. They're true. Most of all, they've got soul.